EBook Maestro PRO 1.80
EBook Maestro Pro offers a powerful combination of an eBook compiler and on-line sales support. After creating a feature-rich e-product, the user can reinforce it with every means of eBook security applicable in professional eBook creation and sales.
EBook Maestro PRO 1.80 - Details and Download Link
3059KB
Shareware
69.95
Web Development / HTML Editors
Windows 98/2000/XP/Vista
eBookMaestro.com
EBook Maestro PRO 1.80 - Free Download and Review
to the best strategies on how to sell eBooks on-line. In this potent eBook software, the user finds a powerful eBook compiler with extensive support for images, sounds, video, and scripts. The multimedia content is encased in the same executable file as texts, so that the reader can download a single file and launch it independently of any other application. Strong and accurate compression makes eBook downloads fast and inexpensive. The eBook compiler also offers a number of refinements to enrich an e-publication: a fast search engine, text-to-speech rendering, input data storage and processing and more.
Multiple content protection is another eBook security feature that distinguishes the Pro edition of the eBook maker. Control over the extraction of eBook files allows the eBook software to limit temporary files in the reader`s system to just certain embedded objects, so that no text or images are stored in temp folders. The program can also disable cut-and-paste and drag-and-drop options to make the eBook content accessible only from the program`s window. Along with the copyright protection, eBook Maestro Pro offers a full-fledged try-before-buy support that enables anyone to sell eBooks on-line from a web site. The eBook compiler can encrypt certain parts of the content at the eBook creation stage and make them accessible only upon registration. A key generator helps provide each customer with a personal registration code. To curb the use of unregistered copies, the Pro edition offers additional trial period and registration options.
The EBook software helps market products as well. The bottom bar can carry web links or advertise partners. Form processing helps integrate eBooks with a web server carrying additional commercial information. eBook Maestro Pro provides help and support throughout the entire e-publishing process.

Related keywords:
eBook software
,
eBook compiler
,
eBook compiler software
,
create eBook
Top Web Development / HTML Editors programs
1) Macromedia Dreamweaver MX 2004
Macromedia Dreamweaver provides the productivity of a visual Web page layout tool, the control of an HTML text editor, and support for Dynamic HTML in one professional, easy-to-use package. Dreamweaver can be used seamlessly with Macromedia Flash, Fireworks, and Director to develop engaging Web content.
2) PHP Editor 2.22
PHP Editor have Sintax Highlight for PHP, HTML, SQL, Java, JavaScript, XML, Perl, C++, Python, CSS and others. Integration with Manual. Internal Browser. Web Server. Templates and more
3) Code Rip 1.0
Code Rip is a source code viewer that extracts the Html code from any web page, including pages protected by no-right-click scripts. Code Rip can extract and save Scripts, Styles, Meta Tags, Frames and Comments.
4) Data Extractor 3.1
Do you have a group of files that contains important data that you can't get to? Using Data Extractor you can simply extract any information from any files on your computer or from webpages. Simply extract email addresses or URLs, or your own data.
5) Templates for free 1.0
Free Templates for your homepage. Best for webmaster to save money. You can use this templates free for non-commercial or commercial project. Download this free templates collection here.
6) JXHTMLEDIT - WYSIWYG XHTML Editor 4.0.005
JXHTMLedit is a WYSIWYG XHTML content authoring tool on a small Java Applet. It provides a textarea replacement (like word processor) that allows you to edit the XHTML document directly in the final form (as will be rendered).
7) Magnifier 2.1
Ever needed to see what's going on on the screen down to the pixel level? That's where the Magnifier comes in. Simple and easy to use, the Magnifier is always handy for when you need to see all the details.
8) CoffeeCup VisualSite Designer 6.0.6
CoffeeCup Visual Site Designer is a WYSIWYG Website creator and editor that helps you make Webpages with no experience or HTML knowledge.
9) CuteHTML 2.3
CuteHTML is a powerful text-based editor that allows you to create and maintain Web sites exactly the way you want to, with full control.
10) Advanced PDF to HTML converter 1.9.9.9
Convert PDF files into HTML so they can be used for online browsing and accessible to all search engines. Graphics, hyperlinks, bookmarks and vector drawings will be preserved.
New Web Development / HTML Editors programs
1) ColorCache 4.1.3.0
ColorCache is a powerful color picker, color scheme generator and palette management system. Select colors from your screen or use the built-in tools to create color schemes. Preview results in your own web pages or export in a variety of formats.
2) WonderWebWare TemplateShaker 3.6
Using this tool is pretty simple: just click and customize the look and feel of the template on the fly, in complete WYSIWYG environment.

3) Likno Web/jQuery Accordion Builder 1.0.116
Rich interface (GUI) to create any type of cross-browser jQuery accordions, such as: vertical accordion, horizontal accordion, jquery slider, jquery toggle, accordion menu, collapsible panel, ajax accordion. Use HTML, images, flash, videos and more!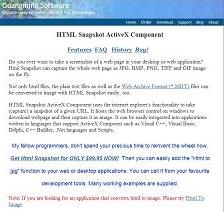 4) HTML Snapshot 2.1.2010.1211
HTML Snapshot ActiveX Component can do: Directly save the web page at a given URL into image in bmp, jpeg, tiff, gif or png format. i.e. html to image, html to jpg, html to image, html to tiff, html to gif convert html string, mht to images.
5) Create Professional eBay Listings 5
AlienFiles is a software product that enables you to create high quality eBay listings.
6) Non IM Riches Bonus Dylan-Loh
Non IM riches bonus by dylan loh is the best way to make money online without touching the internet marketing niche. Most people feel that selling to internet marketers is the only way to make money online.
7) Non IM Riches Review Dylan
Non IM riches review by dylan loh is the best way to make money online without touching the internet marketing niche. Most people feel that selling to internet marketers is the only way to make money online.
8) Likno Web Modal Windows Builder 2.0.204
Use a rich interface to create any type of jQuery dialog or HTML window popup easily, such as: html window, html popup, jQuery popup, modal popup, modal dialog, jQuery modal, modal window. All browsers supported, effects, slideshows, videos and more!
9) Online HTML Converter 2.2
Online HTML Converter offers safe conversion of HTML files to Doc, PDF, XLS, JPEG, TIFF, TXT formats. Users don't have to install any programs to computers. Besides, Online HTML Converter is absolutely free. You don't pay anything and don't view ads
10) Total HTML Converter 2.4
Total HTML Converter converts HTML or MHT files to Doc, PDF, XLS, JPEG, TXT. FLASH is also supported. It can be handled via user interface or command line. There are lots of conversion options (FitToPage, IE Footer & Header support and many others).