Graphics - Multimedia & Design Programs from 1 to 50 listed after downloads number NetZoom Stencils for Visio 2003, Morpheus Photo Animation Suite, e2eSoft VCam, BitmapRip, Presentation to Video Converter, 3D Shop ModelView
Order programs after
downloads
or
name
or
date
(currently are listed after popularity)
1)
NetZoom Stencils for Visio 2003 Visio 2003
NetZoom allows users to create network designs, network documentation, presentations and proposals in Microsoft Visio 2003.
---

2)
Morpheus Photo Animation Suite 3.00
The all-in-one animation suite includes Morpheus Photo Morpher v3.00, Morpheus Photo Warper v3.00, Morpheus Photo Mixer v3.00, as well as all 15 sample morphs, warps, and mixes. If you like animation, you'll love Morpheus Photo Animation Suite!
---
3)
e2eSoft VCam 0.9.0
A software virtual camera which can play video, image, webcam and DV, perform screen capture and set them as your camera output image. It also support multi-stream output with different sizes, camera splitter, image overlay and video special effects.
---
4)
BitmapRip 1.06
Extract embedded JPG, PNG and GIF bitmaps from any file.
---
5)
Presentation to Video Converter 6.6.9
Presentations to Video Converter allows you to convert PowerPoint presentations into Video, Flash, GIF, DVD without using PowerPoint! The converting process allows human interaction on PowerPoint content during conversion. PowerPoint is not required!
---
6)
3D Shop ModelView 1.0
ModelView is an exact 3D model geometry viewer that allows the manipulation of CAD data. This open viewer provides wide access to 3D models in the most popular file formats (dxf, Step, VRML, IGES, CATIA, UG, Pro/E, ACIS, PARASOLID) and data standards (brep, stl, wrl, stp)
---
7)
Envisioneer Express 3.0
Envisioneer Express is the easiest to use residential design program available. This program was designed specifically to introduce clients to the simple creation of floor plans, 3D models, and interior design concepts.
---
8)
SmartComGPS for UIQ 1.02
New GPS mapping/tracking/navigation software for Symbian smartphones. It is one of most advanced GPS mapping software on the market. It is compatible with external BT GPS receivers, and internal aGPS receiver of Motorola A920/925/1000.
---
9)
Halftone 1.24
PhotoShop plug-in for dithering images with a halftone pattern. Halftone patterns are used to dither photographs and other shaded images in newspapers and are a popular effect in graphics design. Configurable, anti-aliassed results.
---
10)
Realsoft 3D V5.1
Feature wise, Realsoft 3D introduces features like SDS modelling, ray tracing, advanced physics simulation, open design. The program is used for example by artists working in the advertising industry, architects, product designers, game industry.
---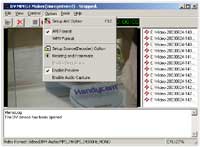 11)
DV MPEG4 Maker 2.6.0
DV MPEG4 Maker Real Time mpeg4/divx/avi/wmv/mpg(vcd)/mp4(quicktime) Video Converter/Recorder,Capture from digital camcorder(1394 interface)
---
12)
3D GIF Designer 2.21
3D GIF Designer produces animated high-quality 3D images, titles, banner ads and buttons for your Web page or for a presentation. The animation can be created from pictures, 3D text and shapes with soft-edged shadow or opacity.
---
13)
MSU Color Enhancement VirtualDub plugin 1.0b
Filter is used for saturation enhancing, rendering HDR (High Dynamic Range) images, shadowed details restoring, light-struck colors and details restoring, faded colors restoring, color images visual quality improving.
---
14)
2D/3D CAD Viewer: DXF DWG HPGL TIFF SVG 7.3
ABViewer - a quick CAD viewer, editor and converter, 3D viewer, raster and vector management software - more than 50 formats supported: DWG, DXF, SVG, CGM, SGM, PLT, STEP, IGES, 3DS... Export to PDF, BMP, JPG etc. Advanced print, many other features.
---
15)
Online Photo Frames 1.01
Online Photo Frames is a freeware tool designed to do two things: 1) Add very cool frames to images, code, flash movies, or whatever else is on your web page and 2) Do it without requiring a big extra download for your web site visitors.
---

16)
Xara X1 1.1 DL
Xara X is an advanced graphic illustration package for Windows, that offers unrivaled redraw speed and a user interface which other developers have tried to imitate, but never matched.
---
17)
PhotoFrame for Treo 600/650 1.0.2
PhotoFrame is an original stylish viewer-screensaver with customizable slideshow with numerous effects, quick access to all images of the handheld, customizable digital clock, MP3 support.
---
18)
Direct Stream Recorder 3.1
Direct Stream Recorder is a handy tool for capturing all kinds of video and audio streams, including video chats, Skype and DRM protected streams. Just select the area to capture, set the audio source, choose video/audio codecs and create a record.
---
19)
The Panorama Factory 4.2
The Panorama Factory creates high-quality panoramas in a highly automated fashion from a set of overlapping digital images. You can add image hotspots, export to VR formats and create web pages that link your images into virtual tours.
---
20)
Watermark Factory - advanced watermark creator 2.58
Watermark Factory allows you to add text or image watermark to any picture. Protect your copyrights or simply add comments to any picture. This useful program has beautiful and easy to use interface.
---

21)
MultiExtractor 2.85
Extract photo, picture, icon from presentation, slideshow (Photodex, PowerPoint), exe or dll file. MultiExtractor is an raw extractor of multimedia: BMP, JPG, GIF, PNG, PCX, TGA, ICO, CUR, WMF, DDS, 3DS, LWO, WAV, MP3, MID, XM, MOD, OGG, S3M, AVI...
---
22)
Batch Image Resizer 3.5
Resize, crop, flip, mirror, rotate, resample, convert, and rename multiple images directly from Widnows! Create thumbnails with ease. Change width and height independently of each other by specifying new value in either pixels or percent of original.
---
23)
quick3D Viewer 4.0
quick3D Viewer is a productivity tool for lightning-fast 3D file format viewing. This utility is a must for anyone working with any type of 3D graphics files. It supports an expansive range of 3D file formats, major and obscure.
---

24)
Vextractor 5.30
Vextractor is a vectorizer program for transforming raster images to vector formats. This tool could be used for the vectorizing of drawings, maps, photo, logotypes and other line art images for input to CAD, GIS or Vector Graphics Design software.
---
25)
Banner Maker Pro for Flash 1.04
Create professional looking flash banner ads, intros, and swf files quickly with Banner Maker Pro for Flash. By using a wizard like interface, you can create great looking web graphics in just minutes.
---
26)
Picture Studio .EXE Professional 1.1.0.2260
Picture Studio .EXE Professional is your ultimate imaging solution, for presentation, conversion, editing and management. Picture Studio .EXE Professional integrates SoftTech InterCorp's most powerful imaging software into a single dynamic package.
---
27)
MYRIAD 7.0
MYRIAD allows you to share and view all your project files safely and securely, both online and on the desktop. New publishing option allows you to dynamically publish document and 2D CAD views and 3D models to interactive HTML web pages.
---
28)
PDF to DWG Converter stand-alone 2.2
PDF to DWG Converter Stand-Alone, a stand alone application, allows you to convert PDF files to DWG or DXF files in one easy step. It supports AutoCAD version 2.5 to 2009.
---
29)
IconCool GIF Animator 5.80.80827
IconCool GIF Animator is a professional and easy-to-use GIF animation software tool. It can create animated GIF banners, buttons and any other pictures for your web sites easily. IconCool GIF Animator can export animation in animated AVI and MPEG.
---
30)
WinCapture 2006 9.0.0
WinCapture is your all-in-one capture solution, a professional screen capture and screen recording application designed for any Windows user who needs an effortless, effective way to take screenshots of Windows screens or record screen activity.
---
31)
123 Animation Creator 2.1
With Active GIF Creator you can create fabulous animated GIF images for the Web. You can even create movies using pictures or graphics created or edited in any image editing program, including Windows Paint, Adobe Photoshop and dozens of others.
---
32)
Advanced Batch Converter 5.20
Stop wasting time renaming, resizing or converting images one by one. Quit getting frustrated over complicated image processing software like Photoshop that make performing the most basic image editing tasks a headache. Get Advanced Batch Converter!
---

33)
NightVision 1.03
Use the NightVision PhotoShop plug-in to create completely realistic army night-goggle type images complete with true over lighting, scaled noise, realistic feedback and anti-aliassed interlacing.
---
34)
Easy Thumbnails 2.6
Create accurate thumbnails from popular picture formats with this handy freeware utility. Find and view images easily, preview your thumbnails, and use provided tools to rotate images and adjust their contrast, brightness, sharpness and compression.
---
35)
DWG Viewer 3.06
View AutoCAD drawings with this free DWG/DXF/DWF viewer. The program is a small application wrapped around an ActiveX component. This allows it to run as a Windows application and in your browser.
---
36)
Fractal Fantasy 2.0
Fractal Fantasy is a wonderful, easy to use utility for drawing self-similar graphics. It offers you a very simple but powerful method to draw realistic or artistic fractal objects such as leaves, trees, grasses or various fantastic things else.
---
37)
Panorama - Terrain Editor 1.0
Panorama is a terrain or landscape editor, where beautiful landscapes are made easy. Landscapes can be created, painted, lightmapped and exported.
---
38)
progeCAD 2006 Professional 2009.0.2.8
progeCAD IntelliCAD uses AutoCAD DWG files, no need for conversion. Windows 7 32,Windows 7 64, No learning curve for AutoCAD users. Get AutoCAD functionality for 1/10th the cost. AutoLISP, import from PDF, Advanced Rendering, 3D ACIS Solid Modeling.
---
39)
Tree Navigation System. 1.3
Organise your pages easily and logically and help guide your visitors around your web site with this Tree Navigation applet.
---
40)
Export Manager 2.0
The Export Manager is an AutoCAD add-on for the conversion of drawings into more than 75 raster and vector formats (ai, bmp, cgm, emf, eps, gif, jpg, pcd, pcl, pdf, pic, png, rib, rpl, sgi, sk, swf, svg, tga, tif, wmf ...)
---
41)
Texture Maker 2.81
Texture Maker is a seamless texture generator and designer. The application contains everything needed to create seamless textures for use in 3D rendering packages, game development, web graphics, image and video editing.
---
42)
CD-Cover 1.1
Print you own CD Covers for your Audio and Data CDs or DVDs! You can open a picture or scan a cover and add text, notes and graphic objects. Then you can print it out as CD cover or CD label.
---
43)
Topaz Enhance 2.0
After Effects plug-in that enhances SD video to HD, de-interlaces video, suppresses video noise while enhancing clarity and details, sharpens blurry video, corrects color bleeding, and creates amazing effects.
---

44)
AutoImager 3.06
Full-featured batch image, graphics, and photo editing and converter software for 140+ formats (JPG, JPEG2000, PDF, etc). Complete command-line operation and an entire arsenal of editing features (batch resize, flip, rotate, crop, trim and much more)
---
45)
ThreeDimSim:3D Mechanics simulator 1.4.4.2
ThreeDimSim is a powerful 3D mechanics simulation and rendering application. A 3D scene is defined by script using simple shapes and imported meshes from CAD files. Mechanics are simulated and rendered and can be analysed and exported.
---
46)
Sagrada Familia Royalty Free Photo CD 1.00
Royalty Free Stock Photo Image CD Collection, detailed IPTC captions & keywords
---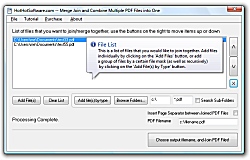 47)
Merge Join and Combine Multiple PDF Files into One from Windows 2.0
This is great software to append 2, a few or multiple PDF files together. Simply select the PDF files you want to merge, and click on the start button! Using this sorting software, how you can also: * Add multiple PDF Files to merge from multi
---
48)
VH Screen Capture Driver 1.4.0
"VH Screen Capture Driver" is a DirectShow filter, which emulate Video Capture card and captures screen activity.
---
49)
Meta-Morpher 1.0
Meta-Morpher is a morphing program which transforms one picture step wise into another. For example one face into another face. The possiblities are various. You can convert animals in humans and converse. You can render as much steps as you want.
---

50)
Web Photo Album 1.0
Create web photo albums and share them on the net for free with Web Photo Album. The program features a user-friendly interface and the ability to upload created albums to a free photo hosting service directly from the program window.
---
Browse Pages:
|<
1
[2]
[3]
[4]
[5]
>>
>|