Website Promotion Tools - Web Development Programs from 1 to 50 listed after downloads number Article Distributor, AzDGDatingLite, Blog Blaster, 1st PHP Text Exchange Script, Free CCIE 350-001 Practice Test Question, BackLinks Master
Order programs after
downloads
or
name
or
date
(currently are listed after popularity)
1)
Article Distributor 1.1.2
Article Distributor helps authors quickly distribute articles to article directories so they can get more traffic.
---
2)
AzDGDatingLite 2.1.4
Free dating script working on PHP and MySQL. Multilanguage, Multitemplate, 35 registration fields, 3 photos, quick/simple search, feedback with webmaster, Admin maillist, Photo of the day, who is online, statistics, and more...
---
3)
Blog Blaster 1.4
Blog Blaster is an automated tool to ping and submit your blogs to over 30 blog search engines with just one click. Pinging your blogs to the search engines is the fastest way to gain increased traffic to your blog.
---
4)
1st PHP Text Exchange Script 2.00
A Text Exchange with advanced features such as statistics and realtime graphs, adsense styles, a template system that makes it easy to personalise, integrated with Paypal and with a simple yet powerful control panel.
---
5)
Free CCIE 350-001 Practice Test Question 14.1
350-001 Practice Questions, 350-001 Practice Test , 350-001 Study Guide, 350-001 Braindumps.
---
6)
BackLinks Master 1.0
Use BackLinks Master to find all the backlinking sites in a fast, easy way. You can check a link's anchor text, its status, if it's direct or indirect, and export all info in a CSV report for further analysis.
---
7)
Real Estate Solution JUN.2009
PG Real Estate - a turnkey solution to build a Real Estate Web Site. Highly flexible, it is a perfect solution for Powerful Real Estate Portal (property lease, rent and sale marketplace), Independent Realtors or Real Estate Agencies.
---
8)
1st PHP Banner Exchange Script 2.00
A Banner Exchange with advanced features such as statistics and realtime graphs, referral downline builder, a template system that makes it easy to personalise, integrated with Paypal and complete control with a simple yet powerful control panel.
---
9)
Global Positioning Submitter 2.01
Global Positioning Submitter is a country specific foreign search engine submission software package. Developed to target search engines in a specific country, thereby facilitating the promotion of web sites.
---
10)
Fake Referrals 2.1.0
Why do you need Fake Referrals? Have you ever seen sites with 'last 10 referrers' area? Just go to Yahoo! and input this query string 'link:http://cialis-online-buy.surf.to'. Just withit any of those results. You will see referrer window there.
---
11)
PADexpress 1.4
Automatically submit your software PAD file to 100+ shareware and freeware sites with just one click.
---
12)
ConceptDraw WebWave 5.8
ConceptDraw WebWave is a software for web site/application prototyping and design, page mocking-up and site-mapping. It includes many ready-made graphics, shapes, templates and wizards for quickly creating professional diagrams and drawing.
---
13)
WTM CD Protect 2.20
Need a good copy protection measure? Worried about piracy? WTM CD Protect - Protect your software against illegal copy. More profit with less illegal copies.
---
14)
AeroTags TagsLock Pro 2.51
TagsLock Pro is designed to protect Web site content with password, encrypt HTML files and block email extractors. Encryption helps you hide the source code of HTML.
---

15)
Link Checkup 1.3
Having trouble keeping track of your advertising and reciprocal links? Link CheckUp makes it easy! You can monitor Web sites that you have exchanged links with, or purchased links from, to make sure that the sites are still linking back to your site.
---
16)
Active WebTraffic 8.1.7
Active WebTraffic is a powerful and professional web promotion software that includes everything you need to submit, position and promote your web site to over one million search engines and internet directories worldwide.
---
17)
Jumpstart-it Easy Online Forms Software 2.0
Create Online Forms for your Website and Process Registrations easily. Credit cards, Email, Word, Excel. Send emails and letters automatically. Book payments. Full integration with Word and Excel, CSV, XML. Jumpstart-it does the boring work -perfect!
---

18)
RealTimeQuery 3.2
Spanto Soft SL has released RealTimeQuery v. 3.2, a simple Windows application that lets you add sophisticated real-time operator support to your web site
---

19)
Transaction 1.6
Transaction is an easy-to-use, full featured and multi-purpose interactive data analysis and reporting tool intended to help you control your online sales.
---
20)
Froogie Froogle Submit 1.5
Froogie is the fastest way to submit your products to Google's online store Froogle. Froogie lets you create and manage Froogle data feeds containing your product information. Easy Wizard-style interface.
---
21)
Search Engine Commando 3.1
Build Traffic! SUBMIT your pages and KNOW where they rank in 400 of the world's top search engines. PROTECT your domain names with the new Domain Name Monitor. Search Engine Commando's proven technology will increase traffic to your web site.
---
22)
A1 Website Analyzer 3.0.4
Website structure and content analysis tool. Find broken links and redirects. View link juice flow through website. Get detailed stats for all pages such as HTML errors, page size, response headers, mime type, response time, download time etc.
---
23)
Keyword Page Generator 2005.03.11 (13)
Generate search engine and visitor friendly keyword pages. Have as many keyword pages as you have keywords you want to target. Get just the visitors you want based on your targeted keywords. No longer be limited by just a few keywords.
---
24)
TheDowser Professional 5.3.0
No longer do you need to mess around with several different keyword research tools or visit different websites for your keyword research. EVERYTHING you need to research keywords and manage your keyword lists and sub-lists is provided in TheDowser.
---
25)
The Classified Connection 2.1.2
The Classified Connection is website promotion and submission software for submitting your business, product, or services ads to classified sites on the Internet. Post thousands of ads in fewer than 10 minutes using the 95-port submission system.
---
26)
007 Link Exchange Easy 2.21
Link Exchange Easy: Find, suggest, add and exchange cool reciprocal links to improve your web site link popularity and google page rank. Find cool links by keywords and backlinks by site. Find backlinks to all the top ranking sites by keywords.
---
27)
Froogle Feeder 2.6
FroogleFeeder is a Windows tool to create, verify & submit Froogle datafeeds easily. Based on a wizard user-interface, it allows you to: - Add products quickly - Verify your information - Convert into Froogle's format - Submit to Froogle
---
28)
Internet Business Promoter (IBP) 10.2
IBP is the only SEO software program that guarantees you top 10 Google rankings - or money back. Tools included: search engine submitter, ranking checker, link builder, keyword analysis and research tool, website optimizer.
---
29)
Accurate Monitor for Search Engines 2.7
Monitor your website position by keywords on all popular search engines, not just Google. See both free and paid placement results, not just URLs, but site title and description. Works through Google API and supports all foreign languages!
---
30)
Pixel Advertising for Homepage 2.0
Pixel Advertising for Homepage provides pixel advertising solutions to help our clients promote thier web sites and drives traffic to websites.Your pixel advertising will be published on our homepage for at least 5 years.
---
31)
ProfiSubmit 10.0.2
Search engine submission software for professionals
---
32)
You Tube Genius 1.1
YouTube Automated Submission Software!This Powerful New Software Quickly Enables you to post your ads on unlimited YouTube Video Pages Quickly and Easily! This Cutting-Edge Explosive New Software will enable you to cut ad posting time.
---
33)
Meta Tag Promoter 1.1
Meta Tag Promoter is a professional and handy tool for building and editing Meta tags. Meta tags play an important part in determining your Web site ranking. Get help in Meta tags management using this program and improve you Web site`s position
---
34)
SubmitDummy! 3.80
Submit your web site to over 22 major search engines with just one click.
---
35)
Maj Cash 5.3
Maj Cash is the documented works of billionare Maj Chen, who made his fortune on the world wide web.
---
36)
M6.Net Link Checker 1.00
The M6.Net Link Checker is an extremely easy to use, free link checker tool that allows you to check other sites for your link or text. A highly useful and essential tool for webmasters to make sure that your reciprocal link is still up on a site th
---
37)
SEO Administrator 4.41
A complete set of SEO tools. Monitor your web site positioning and page rank, find external links pointing to your site and counted by search engines, choose proper keywords, track the results with a log analyzer tool and more.
---
38)
Web Optimization Angel 4.5
Web Optimization Easy: Optimize website page to get top search engine ranking position. Let you know why top 10 ranking and your competitor's sites ranking high in Google, Yahoo and MSN. Easy to help you update your website page.
---
39)
vTest 2.6
vTest is an automated functional and regression testing product for web applications. It incorporates record, verify, playback and reporting capabilities. vTest supports both Microsoft Internet Explorer and Mozilla Firefox.
---
40)
M6.Net PR Quick Check 1.00
The M6.Net PR Quick Check is a extremely easy to use, free Page Rank checker tool that allows you to check the PR of a page or a web site and compare it with the previous PR of the same page. A very useful tool for webmasters.
---
41)
LinkXL 1.0a
Innovative script LinkXL combines benefits of automated link exchange service and manual link exchange on your site like other scripts do. It is easy to install, easy to manage from central server.
---
42)
1st PHP Traffic Exchange Script 2.00
Offer a valuable traffic exchange service and build a busy community interested in web promotion. A WalkerSoftware Traffic Exchange Script is an advanced web based promotion tool that allows you to create a membership community quickly and easily.
---
43)
Easy Submit Website 1.0
Simple and easy to use search engine submission software.
---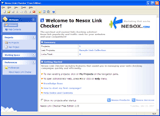 44)
Nesox Link Checker Free Edition 1.11
Nesox Link Checker is a professional tool for link validation and PageRank check for Windows.
---
45)
Site Statistics 2.1
Site Statistics is a professional Web analytics solution for analyzing Web resource activity. The program comprises best features of both a counter and a log analyzer and provides a set of additional tools for Web site optimization
---
46)
PromoSoft 1.85
PromoSoft is an easy to use, professional software promotional tool, which automates the process of promoting your programs on the Internet. It can automatically submit your software to over 750 download sites and archives within minutes.
---
47)
Advanced Link Manager 2.1
Advanced Link Manager is a tool that helps manage your web site incoming links.
---
48)
Cyberfetch Website Submitter 1.1.12
Cyberfetch Website Submitter is one of the easiest Web promotion tools to use on the market by filling in three simple forms. Fully automated. Easily submit multiple Web sites to thousands of places all over the Internet.
---

49)
Website Submitter 2.3
The easiest web semi-automated promotion tool. With our software you will never need to search for places to advertise again. Now you can quickly and safely promote your web site for traffic-driving results!
---
50)
007 Best Promotion Keyword 3.0
Selecting right effective keywords for search engine optimization and web site promotion. Automatic generate, suggestion and analyze top popular keywords and phrases related to your business. And analysis competition number of every keyword.
---
Browse Pages:
|<
1
[2]
[3]
[4]
[5]
>>
>|