Disk Management - System Utilities Programs from 1 to 50 listed after downloads number UFS Explorer, Boomerang Data Recovery MAC OSX, HDD Regenerator, MakeVM, CD Data Rescue, CDRoller
Order programs after
downloads
or
name
or
date
(currently are listed after popularity)
1)
UFS Explorer 3.2
With UFS Explorer Standard you may recover files from most used file systems of different OS: HFS/HFS+/UFS/UFS2/ReiserFS/Ext2/Ext3/FAT/NTFS with system locked files access.
---
2)
Boomerang Data Recovery MAC OSX 1.1.1
Boomerang Data Recovery software is the fastest and easiest way to recover lost or deleted files from your Mac! Now you can recover with breeze from initialized drives, damaged RAID's, camera cards and other storage devices including USB and FireWire
---

3)
HDD Regenerator 2011
HDD Regenerator is a unique program for regeneration of physically damaged hard disk drives. It does not hide bad sectors, it really restores them!
---
4)
MakeVM 1.6.2
Create/edit VMWare (R) Player - compatible virtual machine configuration files. Manage virtual disks of VMWare, Virtual PC, Parallels Workstation with disk format conversion, compacting (even with file system level optimization) and disk clonning.
---
5)
CD Data Rescue 2.5
CD Data Rescue is a effective data recovery software for damaged, scratched or defective CD-ROM,CD-R and CD-RW discs.It easily recovers unreadable, deleted or corrupted files.Full real support for UDF packet witting software. Free trial version.
---
6)
CDRoller 8.90.50
Recovers files from CD, DVD and Blu-ray discs that your Windows cannot see. Including old UDF discs, created by Sonic (Adaptec, Roxio) software, unfinalized discs with video taken by DVD camcorders, corrupted, damaged, incorrectly closed discs, etc.
---
7)
Auslogics Disk Defrag 3.1.10
Disk Defrag will speed up your computer by optimizing file system. It can defragment files, consolidate free space and move system files to the faster part of the disk. With Disk Defrag you'll get the maximum out of your hard drive performance.
---

8)
iPod data Retrieve 2.0.1.5
iPod Data recovery software restore recover retrieve lost music pictures video files folders Mp3 Photo songs images accidental deletion format reset corrupted damaged iPod memory accidentally formatted Apple iPod shuffle Mini Nano retrieval utility
---
9)
MISPBO Data Recovery 5.0
Ultimate Data Recovery allows you to recover your lost files, no matter how they were deleted. Using powerful bit-by-bit scanning methods, you can be sure to get your files back quickly and easily.
---
10)
Drive Speed Checker 1.6
This application will help you diagnose system issues by checking the read, write, and search speeds of your drives.
---
11)
Broken Cross Disk Manager 3.81
Catalog your disks, and easily browse or search in them. Enter or let the program create a description for items in the database. Set additional information like comment, author etc. to find items more easily. Create and export customizable listings.
---
12)
Remove Old Files 2.07
Automatically delete, move, archive old files. Transfers data to archive folders based on file creation, modification or last access date. Easily remove files over N-days old.
---
13)
R-Linux 1.0
R-Linux is a data recovery and undelete tool for Ext2FS (Linux) file system. File recovery after power failure, system crash, virus infection or partition with the files was reformatted, even for different file system.
---
14)
Disk Cleaner 2.0
WinTuneUp Disk Cleaner is an utility for cleaning disks from information that clogs your system and reduces the performance of your computer. with the help of this tool you can search and delete junk files.
---
15)
Kernel Linux - Data Recovery Software 4.02
Kernel for Linux is a robust and quick Linux data recovery software for Ext2 and Ext3 File system volumes. For quick data retrieval QFSCI technology is used, which automatically recognizes lost, deleted linux partitions, volumes, files and folders.
---
16)
Disk Washer 5.3.0
Fast, powerful, and customizable utility for cleaning up unwanted files and folders from your PC, restoring disk space, keeping your system running smoother, faster, and maintaining your privacy.
---
17)
Meetsoft Partition Recovery 1.0
Meetsoft Partition Recovery is a powerful and easy-to-use software utility. It was developed to help you to recover lost FAT12, FAT16, FAT32, NTFS partitions.
---

18)
R-Studio Data Recovery Software 5.3
R-Studio is comprehensive data recovery tool renowned for its ability to recover mission-critical data lost to viruses, malicious attacks, and hardware failures or operating system crashes. Functions on local and network disks.
---
19)
UFS Explorer Business Network 3.2
The fast and comprehensive Windows data recovery and undelete network program for most popular file systems and broken RAID arrays.
---
20)
Total FAT Undelete 1.2.2
Total Undelete is an application that will recover and undelete files on your local hard disk only FAT32 file system. Recover wiped and deleted or lost file and data no possibility undelete specjalistic software to regaining data.
---

21)
DiskInternals NTFS Recovery 2.9
NTFS is an advanced disk formatting used by XP and other modern OS'es. DiskInternals NTFS Recovery is a fully automatic tool that utilizes NTFS features allowing you to recover files from disk volumes in case they were damaged. Pre-Recovery Preview!
---
22)
Floppy Diskfix 2.0
This program repairs the bootsector of floppy disks giving you access to your lost data again. If windows has ever told you that the disk in drive A is not formatted. Do you want to format it now? This program can help get your lost files back.
---
23)
Repair Hard Drive Mechanic 2007.817
HARD DRIVE MECHANIC - Hard Drive Repair, Data Recovery and Diagnostics Software. THE HARD DRIVE MECHANIC is the ONLY Hard Drive Recovery Software designed so anyone can get their PC Hard Drive back up and running in minutes!
---
24)
BAD CD/DVD Reader 1.0
It can copy data from scratched CDs and DVDs.It comes with some advanced facilities like copying whole CD/DVD in a single click.Folders can also be copied easily.It can eject tray of CD/DVD drive and vice versa.
---
25)
WinHKI Erase 1.1
WinHKI - Erase your data.
---
26)
AVS Disc Creator FREE 2.1
It's revolutionary Blu-Ray freeware. The first and the only one free Blu-ray Disc burning software in the international market of multimedia solutions today! Write your date to CD, DVD and Blu-Ray discs using FREE AVS Disc Creator.
---
27)
Drive 3.01
Drive is a great Windows-based, full-featured pop-up drive browser, virtual drive creator, CD autorunner, and much more. You are able to get a fast access to your drives at any time and create/remove permanent or temporary virtual drives!
---
28)
DiskCheckup 2.0
DiskCheckup measures the performance and 'health' of your S.M.A.R.T. enabled hard disk drive. It can track attribute changes over time and 'predict' the date at which your HDD will fail.It can be command line driven and will also send alerts by email
---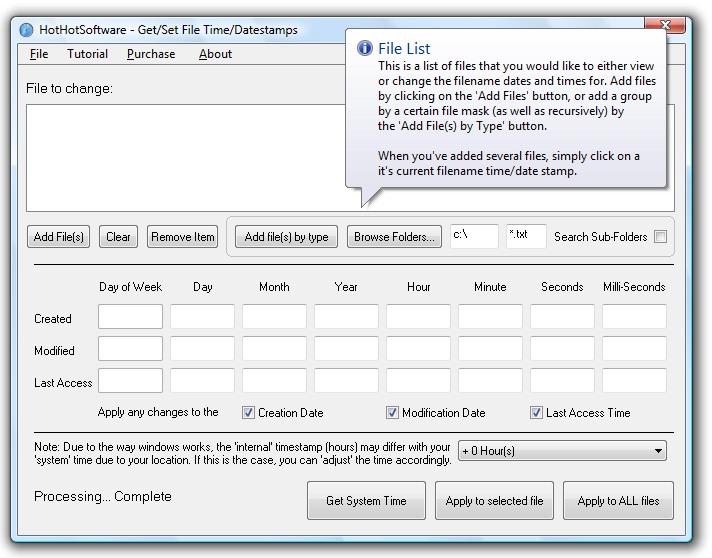 29)
File Date changer to change the created, modified and last accessed time of files 2.0
This software allows you to easily change the filename date and time stamps! You can change and set the last modification date, the creation date, as well as the last access portion of the time stamp, touching the timestamp. You can recursively chang
---
30)
ANALYZER for RECOVER Floppy Pro 0.1
Recursive disk level data recovery analysis software for bad Floppy Disks. Single recursive run lists all files having a folder entry from inaccessible floppy disk. Listed files and orphaned files can be recovered by using RECOVER Floppy Pro v1.0.
---
31)
DRevitalize 2.10
Physical bad sectors recovery tool for floppy and hard drives.
---
32)
EZ File Transplanter 1.01.05
Lets you move a program or folder to a new location without breaking it. When you install a program under Windows or when files are used in a folder, the system builds a web of connections that make it difficult to move the program or folder.
---
33)
File Structure Grabber 1.36
This program will create a copy of the file structure of a computer and allow you to access it on any other computer without a network connection!
---
34)
Smart CD Catalog Professional 2.56
Smart CD Catalog will help you organize your personal database with all your discs in it, saving time and solving the problem of organzing your discs! View the contents of your discs without inserting them into the CD drive!
---
35)
Fast Folder Access 1.8.3
Fast Folder Access can quick jump to your favorite folders in common Open/Save dialogs,in Windows Explorer,Desktop and Start Button.It can preview image in the context menu and add any file as shortcut to Quick Launch or create new folder to manage.
---
36)
Paragon CD-ROM Emulator (Personal) 3.0
Is your PC surrounded by piles of CDs and DVDs? If so, then Paragon CD-ROM Emulator will help to reduce the clutter. In just a couple of mouse clicks, the Emulator Manager can add a virtual CD drive to your PC.
---
37)
HDDlife 2.8.99
HDDLife is a real-time hard drive monitoring utility with alerts, malfunction protection and data loss prevention functions. This hard drive inspector is a proactive hard drive failure detection system which manages all of your hard drive risks.
---
38)
Flobo HDDBadSectorRepair 1.5
performs repairing of the bad sectors of Hard Disk Drives regenerating HDD surface. This is not a CHKDSK or ScanDisk like utility! It does not mark the bad sectors in the file system and hidden them! It regenerates magnetic surface!
---
39)
ANALYZER for RECOVER Fixed/Floppy Disk 0.3
ANALYZER for RECOVER Fixed/Floppy Disk V0.3 visually reports on bad sectors in system area of disk. You can check if Boot Sector, FAT 1, FAT 2, and ROOT FOLDER sectors are good or bad. You find how much of remaining file system can help recover files
---
40)
FindDoubleFiles 1.2
Search, find and remove double files on your disks with this handy little tool. When maintaining larger collections of images, music or other files FindDoubleFiles can be handy maintaining your collections.
---
41)
ByteSweeper 2.3
ByteSweeper removes unused and temporary files from your system - allowing it to run faster, more efficiently and giving you more hard disk space. The best part is that it's fast!
---
42)
RollBack Rx - Standard 7.2.12
RollBack Rx is an industry leading PC protection utility. It represents an advancement in technology that has never before been available in protecting computers from viruses, users or system problems.
---
43)
Disk Explorer Professional 3.70
Organize all your files on CDs/DVDs: photo, video, music, downloaded archives...and browse your collection offline! This application is a powerful tool for cataloging all CDs, DVDs, floppies, ZIP disks, hard/netword drives, or even FTP servers.
---
44)
O&O Defrag Server Edition 10
O&O Defrag 10 Server Edition is not only the ideal, specially-created defragmentation software for servers - it also contains the O&O Defrag network management. This tool allows you to distribute and control O&O Defrag over your entire network.
---
45)
Advanced SmartCheck 4.0
Advanced SmartCheck 4.0 uses S.M.A.R.T. technology to monitor all networked PC's hard drives internal S.M.A.R.T. attributes, predict drive failure and prevent data loss. It lets you know about a potential disk health problem before you lose data.
---
46)
RecoverPlus Photo Recovery 2.5.49
RecoverPlus Photo Recovery of all lost, deleted and formatted photo's and files on all media types. Over 40 predefined file types, data and RAW included. Surprisingly accurate and fast. Unique learning engine for adding new file types.
---
47)
Advanced NTFS Recovery 3.3
Advanced NTFS Recovery is a repair tool that revives partitions and drives from failures. It scans drives and selects the most effective solution in every given case. Its customary explorer-like interface and full automation ensure top performance
---
48)
FILERECOVERY® for Windows® 3.2
FILERECOVERY® is a safe and affordable do-it-yourself data recovery solution that is designed to recover deleted files from media such as Hard Drives, Floppy Drives, SmartMedia, CompactFlash, and Memory Sticks.
---
49)
Abexo Defragmenter Pro 6.1
Does defragmenting your hard disk take too long? Did you know that running programs can neither be defragmented nor be moved? Did you know that besides disk defragmentation, a disk optimization would tremendously speed up computer performance?
---
50)
Abexo Defragmenter Lite Plus 6.1
Does defragmenting your hard disk take too long? Did you know that running programs can neither be defragmented nor be moved? Did you know that besides disk defragmentation, a disk optimization would tremendously speed up computer performance?
---
Browse Pages:
|<
1
[2]
[3]
[4]
[5]
>>
>|