Top 1-50 Software Development Programs : VideoCap ActiveX Control ( Video capture ocx ), Collection of C++ Examples, Video Chat ActiveX, VB Decompiler, Visual Basic Controls (Source Code), JDecompiler (Java Decompiler)
Order programs after
downloads
or
name
(currently are listed after downloads)
1)
VideoCap ActiveX Control ( Video capture ocx ) 5.02
Capture Video From web cam, capture card, TV Tuner to AVI or Streaming file format (WMV file). Capture Video stream From IP Camerea. Frame grabber to memory or clipboard. Refresh audio pin when audio device changed.
2)
Collection of C++ Examples 6.0
Collection of C++Builder Examples with source code.Database Example in C++ Builder,Custom Print Preview Example in C++ Builder,Animate windows in C++ Example.Running external applications from c++ example.Drag object and components on a Form.
3)
Video Chat ActiveX 1.0
Live Video Conferencing (Peer to Peer). Send live video messages using your webcam. Send live audio messages using your microphone. Programmatically select the web cam to use. Single frame and image sequence capture.
4)
VB Decompiler 8.1
Decompiler of Visual Basic programs. Decompiling forms, pseudo code, native code procedures (with power Pentium Pro disassembler and emulation engine), .NET IL code.
5)
Visual Basic Controls (Source Code) 3.0
Visual Basic Source Code that demonstrates how to make VB Controls by using a Picturebox and pure VB Code. Free source code for making Command Buttons and additional source code for making other controls is available.
Visual Basic Source Code
6)
JDecompiler (Java Decompiler) 1.0
JDecompiler is a very small tool, that can use your favorite text editor (eg: EditPlus) to decompile and view the java class file.

7)
XMLSpy Home Edition 2006
Altova XMLSpy 2006 Home Edition is a totally FREE entry level XML development tool for designing and editing XML applications. XMLSpy Home Edition supports Eclipse integration and is ideally suited for hobbyists, entry level developers, and students.
8)
Access MDE Unlocker 1.5
Unlock an Access MDE database allowing design changes to be made to forms and reports. Functionallity changes can be made by using macros. Note: VBA modules remain compiled and locked.
9)
UltraEdit-32 Professional Text/Hex and Programmer's Editor 11.00
Powerful Text, HEX and Programmer's Editor with Syntax Highlighting/Coloring for many languages. Code folding, Brace Matching, HEX Editing, Style Builder, Column/Block editing, SFTP Support, Spell checker, UNICODE, UNIX/MAC conversions.
10)
Eym Barcode Reader OCX 2.3
Free demonstration of the EymBarcodeReader SDK, an ActiveX control that performs all necessary image processing and decoding stages to locate and read a variety of standard 1D barcodes from image data.
11)
Neuron PE Disassembler 1.0 b6
Neuron PE Disassembler is a visual tool for exploring PE internals. Disassemble DLL,OCX and EXE files and view their code,dependencies and resources. View DLL, OCX and EXE code as Intel ASM and/or structured pseudo ASM/C/C++. View LIB and OBJ.
12)
Report Generator 1.46
Report generator generate reports and print them basis on data received from client application, server, database and report template. To get data, report generator can execute any script in any language.
13)
Quick Batch File Compiler 1.0
Quick Batch File compiler convert batch files into actual program in one click

14)
Ufasoft Common Lisp 4.28
Free Common Lisp implementation. Features: VisualStudio-based IDE, creating EXEs, support of Windows Mobile console and IDE Lisp interpreter and compiler. It is smallest implementation of Common Lisp, just 1MB of binary code.

15)
VB.Net to C# Converter 2.27
VBConversions VB.Net to C# Converter will convert your VB program to C# with over 99% accuracy. Visual Studio Magazine Reader's Choice Award, 2006. Free download.
16)
BlitzMax 1.0
BlitzMax is the new, next generation game programming language from Blitz Research. BlitzMax retains the BASIC roots of Blitz3D and BlitzPlus, but adds a ton of cool new features and abilities.
17)
pgAdmin III for PostgreSQL 1.02
Administration Centre for the PostgreSQL database, freeware
18)
MIDlet Pascal 2.01
Use your Pascal programming skills to develop fully functional Java games and applications for your mobile phone. Midlet Pascal compiles Pascal functions and objects directly into Java bytecode which can be used on any Java supported mobile phone.
19)
Karamasoft UltimateEditor - ASP.NET control to render rich-text content editor. 1.0
ASP.NET control to render rich-text content editor.

20)
Quick Number Base Converter 1.1
Quick Number Base Converter is a small utility application that sits in the windows system tray. When you need to converter between decimal, hex, binary, etc -- just click the icon and the converter pops up. This software is freeware.
21)
P2P VoIp 1.1
The program is used for conversation in a local network. The voice packages are transmitted in a format GSM6.10. Voice packages and service information use one and the same UDP port. The program is distributed with the source code.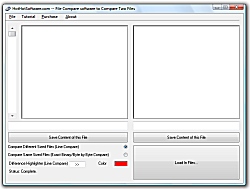 22)
File compare software to compare two text or binary files! Diff utility! 2.0
Have you ever wanted to compare two different files quickly, but haven't had the tools you need? Then this software is for you! Download the file compare software for free and try it now! This software features: * The ability to easily compare
23)
File Generator 1.0
Allows you to generate test files of any size with any type of random data
24)
Outlook Security Manager 1.5
It is a programming tool to disable Outlook security pop-up warnings with a line of code. It supports Visual Basic .NET, C#, C++ MFCL/ATL/.NET, Visual Basic 6, Delphi, VBA, Word MailMerge, etc.

25)
ErezPP1LTR Print Preview ActiveX Control for VB6 1.4.1
ErezPP1LTR OCX is a FREEWARE Print Preview ActiveX Control, Left To Right direction, for Visual Basic 6. It gives developers an easy tool to make print and preview of their softwares.
26)
Multilingual VB6 Setup program with skin 2.1
You can change your default VB6 setup program with this inproved setup program. It has a skin and it is multilingual (English, Spanish, French, Italian, German and Portuguese). The language is automatically swithched according to the user language.

27)
Windows Std Serial Comm Lib for Visual Basic 5.0
Visual Basic RS232 serial communications library. Control multiple ports simultaneously. Includes line status/control, modem control,ASCII/XMODEM/YMODEM, virtual ports (USB to serial,Bluetooth serial, hardware/software flow control.Win64,Win32,Win16
28)
VBto Converter 2.43
Software for converting MS Visual Basic 6.0 projects (including source code) to Microsoft VS VB.NET, C#, J#, VC.NET, VC++ (MFC), Borland C++ Builder, Borland Delphi. Visual Basic forms viewer and source code analyzer.
29)
CuteSQL 1.2
CuteSQL allows you to execute SQL commands and queries against any database. Connections: Native, ODBC, ADO. Supported db: Oracle, MS SQL, PostgreSQL, MySQL. Features: tabular displaying of SQL queries; autocommit configuration; terminators settings.
30)
Convert for .NET 2.3
Converts C# source code units to equivalent VB.NET code.
31)
VB Image Map ActiveX Control 1.1.6
The VB Image Map OCX allows you to display interactive images in your applications. Hotspots within your image can be defined that will react to various mouse events. It uses standard HTML syntax to define hotspot coordinates.
32)
UEStudio '05 05.00
UEStudio '05 was created with the concept of an IDE in mind and is built on the chassis of the renowned UltraEdit. Build, Compile, Debug, Run! ClassViewer, Resource Editor, Integrated Tags, Project/Solution support, Language Intelligence!
33)
CASL 4.3
CASL is a rapid application development environment which allows you to create applications for Palm, PocketPC and Windows. The language syntax is easy to learn, powerful enough for creating commercial applications. CASL is a Free download.
34)
Easy Way to Use SQLite 2.0
Would you like to know how to create embedded SQL database applications using using Visual C++ with SQLite? Download this sample eBook.
35)
Packet Sniffer SDK for Windows (for Borland C compilers) 2.1
Packet Sniffer SDK static librariy for Borland C compilers is intended to use for network packets capture and packets generation tasks without using of preinstalled packet drivers. Support Gigabit networks.
36)
Raduga 3.8.7
Raduga is a music automation software programme, ideal for radio stations, clubs, pubs, shops etc. It's extremely easy to use with a straightforward uncomplicated screen display.
37)
Serial Monitor 5.22.00.1627
Software serial port monitor Rs232 sniffer with protocol analyzer and packet data logger. This monitoring utility can spy, capture, view, log, analyze test com ports activity performing com port connection and traffic analysis with data acquisition
38)
CAD OCX Pro 2.0
A Visual Basic ActiveX Control for AutoCAD to create objects, extract block attribute values, and move VB data to AutoCAD.
39)
2D / 3D CAD Import .NET 6.3
CAD Import .NET is an easy-to-use API for reading AutoCAD DXF, DWG and HPGL PLT in C#, VB.NET and other Microsoft Visual Studio environments. It is programmed completely in C#. Demos: Viewer, Editor, Import, Add Entities, MergeFiles, ViewerControl.

40)
VB Watch 2.0
How fast is your Visual Basic code? VB Watch Profiler finds it out! VB Watch also adds power error handling and ensures that no line of code is left untested. Includes Exe debugger.
41)
Dis# - .NET decompiler 3.0
Dis# is a .NET decompiler which allows you to edit local variables and other names in the decompiled code and keep the changes in a project file. With Dis#, the decompiled code is similar to the original source. A trial version is available.
42)
Demo toolbar for Internet Explorer (IEDemoToolbar) 2.1.
This toolbar will be useful for Delphi developers as a framework for their own toolbars. XP themes support, chevron support, gradient background support, etc...
43)
Karamasoft UltimateMenu - ASP.NET menu control to build advanced DHTML menus. 3.0
ASP.NET menu control to build advanced DHTML menus.
44)
ActiveSMS - OCX 1.0
ActiveSMS is an ActiveX DLL that allows you to send and receive SMS (also binary and flash) through GSM terminals. It handles voice calls and the phonebooks of both SIM and terminal. It supports the terminals of the most important producer companies.
45)
Radius Test 2.3.1
Radius Test is an implementation of the client side of RADIUS.It is a useful tool for testing installations of your RADIUS server.
46)
VeriFinger 4.1
Fingerprint identification engine VeriFinger is intended for biometric systems developers and integrators.
47)
Easy Way to Use MySQL++ 2.0
Would you like to know how to create MySQL client applications using Visual C++ with MySQL++ class library?
48)
mCore Pro SMS & WAP Push Component 1.8
mCore Pro is a robust and easy-to-use component that will enable your desktop or web based applications for 2-way SMS & WAP Push. It can be used with any ETSI 07.05 compliant GSM modem or phone handset connected to the PC serial port.
49)
Metamill 4.0
Metamill is a professional UML CASE tool. Supports latest UML 2.0 standard and XMI 1.2. Round-trip engineering for Java,C,C++ and C#. HTML document generation and scripting language. Fast and easy to use. www.metamill.com
50)
DE Decompiler 2.0
DE Decompilerâ"¢ restores most parts of the compiled code and helps you to recover most parts of the lost sources. DE Decompilerâ"¢ has a wonderful code analyzer which makes your work easy and fast.
Browse Pages:
|<
1
[2]
[3]
[4]
[5]
»
>|