Music Management - Audio & Mp3 Programs from 1 to 50 listed after downloads number CopyPod, ID3 renamer, Mp3 ID3v1v2 Tag Edit & Sort Tool, Cool Audio Extractor, Playlist Creator, OnLineLive
Order programs after
downloads
or
name
or
date
(currently are listed after popularity)
1)
CopyPod 7.63
CopyPod allows to backup, copy, recover & transfer your iPod Music to your PC. Ideal before sending your iPod for repair or to move your iPod Music between computers.
---
2)
ID3 renamer 2.14.14
If you need to rename a large number of files in a directory accordingly to their ID3 description and a given "formula" (e.g. (%Track) %Artist - %Title). You can also fill ID3 tag with some smart functions.
---
3)
Mp3 ID3v1v2 Tag Edit & Sort Tool 1.0
Mp3s ID3 tags group edits tool with sorting, copying & renaming functions. Features: ID3 V1 full Read/Write Support and ID3 V2 Basic Read/Write Support; group ID3 V1,V2 or both editing/updating/removing; copying/renaming files with advanced options
---
4)
Cool Audio Extractor 1.26
1.It can extract sound tracks from VIDEO and save them as MP3 format. 2.The format of Video file can be avi , mpeg , asf , wmv , RM ,RMVB. 3.Allow for changing the Bit Rate and the Sample Rate of the MP3 Convert Avi to mp3,Asf to mp3,Wmv to mp3
---
5)
Playlist Creator 3.5.0
With Playlist Creator you can create playlists easily and quickly. The composition and creation of a playlist is done within seconds! Reliable and fast readout of ID3Tags. The tool supports drag and drop from Windows Explorer.
---
6)
OnLineLive 9.0.0
Online Live lets you watch 3645+ free Internet TV, on demand videos and listen free online radio Rations on your PC, Games and Newspapers (+1250) on World Wide Web. Media Guide: +750 Full Movies, 1540 Movies trailers, +2500 Music Videos (Free,legal)
---
7)
1st MP3 Tag Editor 5.91
Got a bunch of MP3 files with missing tags? Get 1st MP3 Tag Editor and get them filled in automatically. When connected to the Net, the program will automatically connect to a database and import MP3 tag data based on track properties.
---
8)
123 Advanced MP3 Cutter 1.00
Cu tparts of multiple MP3 files at the one time! It's an ideal utility to create small demos from music and audio samples. Musicians and recording studios can take advantage of this by publishing small samples of its music in the web.
---
9)
MY IPOD Manager 1.2.0.0
IPodManager is an easy to use tool to manage your iPod,it can copy files iPod to PC and vice versa, remove files from liberary, delete dead tracks, synchoranize your iPod with your library, creat new playlists delete files from library and hard disk.
---
10)
MP3-tag 5.91
mp3Tag is a music tag editor for MP3, WMA, MPC,OGG, APE, MP4 files with great features, like an automated search for lyrics/pictures, Amazon/FreeDB support. The program comes with batch processing options for working with large music file collections
---
11)
Audio Librarian Plus 5.0
Audio Librarian Plus will catalog any type of audio media--CDs, MP3s, cassettes, albums, singles, and more. Download information directly from the internet and import data from other sources.. Audio Librarian allows get your collection organized
---
12)
Music Catalogue Master 4.01
Catalogs CDs and vinyl records into a fully searchable database. Automatic entry via an internet connection. Enters all the available CD and track information into its database - including artist name, title, label and more! Exports to HTML and PDF.
---
13)
Media Catalog Studio Lite 5.9
Is your music and video file collection growing out of control, making it impossible to find anything? Fight the problem with Media Catalog Studio, a handy software application for classifying and tracking media files or CDs. It's free to download!
---
14)
Audio Wizard 1.2
'Audio Wizard' allows: 1.Creation and maintaining of the storage of tracks. 2.Copying tracks into the storage. 3.Ripping tracks and converting it. 4.Getting some information from the free database. 5.Reading and modifying the track metadata.
---
15)
MP3 Boss - MP3 Database & Manager 0.683
MP3 Boss allows you to easily/fully manage and play your music files. Integrated Winamp support, auto scanning, extensive database functions (sort, search, filter, report), file management, file cleanup and many special functions.
---
16)
Audio-CD-Archiv 5.0 Edition 2006 5.00.566
Audio-CD-Archiv is your music-center to manage Audio-/MP3-CD/DVD and WMA, MP3, OGG-files. Search folder, statistic, search and print function, ID3Tag Editor. Export into MP3, WMA, OGG. Copy to CD/DVD, MP3-player. Extensive Jukebox, playlists.
---
17)
iMagic Audio Editor 2005 pro
iMagic Audio Editor is a digital audio editor for a user-friendly price. It's the perfect program for home studio recording and for people who are just getting started with audio editing.
---
18)
Music Library 1.9.810
All you need to manage your music collections, MP3s or audio CDs. Features include: CDDB support, batch rename and ID3 tag editing, file management, import/export/compare database, powerful search and professional style report features.
---
19)
Mp3 Edit Magic 7 Platinum
Creating and editing music has never been easier! Mp3 Edit Magic turns you PC into a recording studio.
---
20)
My Streamer 1.0.1.6
Automatically organize & categorize your MP3 music and access it from your computer, LAN or Internet. Password access with multiple skins. Use your favorite browser and MP3 player on any OS to listen. A perfect companion to your broadband connection!
---
21)
Multimediafeed MP3 Tagger 2.82
Multimediafeed MP3 Tagger - mp3 tag information changing tool. With Multimediafeed MP3 Tagger, editing, filling and copying tags will be easier. If you own a huge collection of music, our MP3 Tagger will help you organize your musical archive.
---

22)
Music Tag Editor 1.3
Music Tag Editor is a simple-to-use program that allows you to change "tagged" information about your MP3/WMA music files. Quickly change music filenames, create playlists and even add lyrics to your music files, with full UNICODE support.
---
23)
Guitar Mode Maker 1.3
Guitar Mode and Scale Creator, create and modify chords and scales. For 6 sting guitar. Comes with several hundred chords and scales to start with.
---
24)
eTunes 2.8
With eTunes you can easily and quickly search, edit ID3, and organize your music.
---
25)
Music Label 2005 11.2.1
Music Label 2005 helps you organize your music collection. The track info on your CDs is indexed automatically, using the online Gracenote CDDB2 music database. Images of your CD covers are retrieved from amazon.com. Features unlimited 14 day trial.
---
26)
Mp3 Partner 1.0.2
MP3 Partner is the world's most convenient software to manage your mp3 files! It can rename your mp3 files. It can classify your mp3 files and it can edit Id3 tags of your mp3 files.
---
27)
Mp3ator 1.0
Are you looking for an easy way to automatically complete your mp3 tags? If so, Mp3ator is for you. Scan your hard drive for audio files and Mp3ator will tag these files for you!!!
---
28)
IM Collector Music Edition 1.3
IM Collector is the music organizer software for Windows intended to gather, store and catalogue the information about your music collection and to represent the resultant music database in the most convenient ways.
---
29)
StationPlaylist Creator 2.53
Low cost music and spot scheduler, and playlist creator software for radio station broadcasting and internet streaming. Also suitable for in-store automated music systems.
---
30)
Easy CD & DVD Cover Creator 4.12
Easy CD & DVD Cover Creator allows you to design and print your CD and DVD covers quickly and easily. Simple to use software, with a help file. Version 4.0 includes the facility to design inserts slimline and standard cases plus disc labels.
---
31)
Crystal MP3 Splitter 1.0
Crystal MP3 Splitter is an easy-to-use MP3 editor which can split a large file into multiple small p
---
32)
AudioList Plus 4.4.0
AudioList is your complete audio, CD, and music organization and inventory software for Palm OSĀ® handhelds, Pocket PC or Windows Mobile handhelds, and Windows PCs! Keep track of your collection of tapes, CDs, music, etc. that you own, loaned, etc.
---
33)
Midi To Wav Mp3 Convertor 1.5.1
Midi To Wav Mp3 Convertor is an easy-to-use tool for converting MIDI files to wav,mp3 format with CD quality. Normally MIDI files are not processed directly by other programs such as audio converters, music editors, or CD burners.
---
34)
Music Xpert Tag Editor 2.80
Software for audio file tags editing and organizing music collection. Rename files using the embedded tag data from audio files. Create or edit tag data for audio files (mp3, wma, ogg and more). Get tag information from filenames or CDDB.
---
35)
Tag&M3U 1.3
Tag&M3U allows you to easily edit id3 tag on multiple files or manage playlist automatically.Define id3 tag by filename, rename file by id3 tag or make m3u playlist according to your preferences.Many options,multilanguage and easy to use.
---
36)
Catalogue of disks 3.0
The program allows to systematize the information on disks easily. The program can be applied not only houses, but also in shops of hire of disks, etc. Work with debtors, search on contents of disks and many other things is supported.
---
37)
Tansee iPod Transfer 3.0
transferring songs and videos from your iPod to a Windows based PC An ultimate application for transferring songs and videos from your iPod to a Windows based PC, you can search songs or videos by title, artist, album, genre...
---
38)
X-Spat Controller 1.6.0
X-Spat Controller for A&G X-Spat DSPExpansion, is a MIDI software that provides control over the 202 parameters of X-spat boX, X-Spat Card for Rosetta800 and X-Spat Adapter for Richmond Sound Design AB64. It generates 3D paths, 4 stereo audio sources
---
39)
Mp3 List Maker De Luhe 4.12
Create a list of your mp3's. Include info of your choice (such as size, time, kbps, stereo mode, etc). Save, load, import or export lists. Find duplicates in your list. Compare your list to other people's lists. Insert & edit items. Plenty options.
---
40)
Dual MP3 Manager 3.0
Dual MP3 Manager manages your collection of MP3 files on your harddisk, CDs or network drives. It creates a collection by scanning your system, and storing information about the MP3 files in a separate database.
---
41)
Abee MP3 Duplicates Finder 2.1
The purpose of this program is to find all mp3(ogg,wma) duplicates on your computer and remove useless files from your hard drive. As this program performs just this single task it copes with it much better than other more universal programs.
---
42)
Rename 123 1.01
Rename 123 is a multiple file renaming tool. It will make it easy to keep movie, music, image and other file's names consistent and organized. It comes with lots of renaming options, an integrated file browser, instant preview capabilities...
---
43)
Abander TagControl 2.67
Abander TagControl is an easy to use and powerful .mp3 .ogg .wma .ape .asf .mpc .aac .flac tag editor with lyrics, album art, CDDB, amazon.com support. You can easily organize your music collection, rename music files. Export:playlist, csv, htm,txt
---
44)
Music Express 4.20
Music Express is a full-featured application to organize and manage audio CD collections and music downloaded from Internet with search, rename, and file organizing tools, duplicate file searching, printing file lists and CD cover functions.
---
45)
RCL Music Ministry 8.0
Manage the entire music library, the entire song collection regardless of recording medium, ensemble members, worship order for multiple performances with different ensemble, performance history of all ensembles, individuals, songs, and collections.
---
46)
AIRMIX sound automation PRO 9.5(b1594)
AIRMIX is the best solution for radio stations, hotels, supermarkets and home use. It is a program that manipulates music and commercials using mixes, perfectly. AIRMIX is the best solution for places that request continuous music.
---
47)
Audio Splitter Convertor 1.9.1
split one Audio File (Mp3 ,Wav ,WMA ,Ogg) into smaller One. Convert Mp3 ,Wav ,WMA ,Ogg from one format to another..Allow for changing the property of the MP3 Wav, Ogg, Wma(such as Sample Rate,Bit Rate,VBR).
---
48)
MP3 WMA OGG tag edit 2.5
MP3 WMA OGG Tag Edit is a great tool for editing data tags in sound files of any format. You can work with several files simultaneously or change the tags for all files in a selected folder at once.
---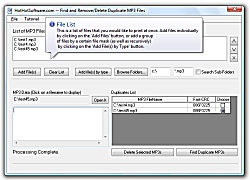 49)
Find and remove/delete duplicate mp3 files 2.0
Find and remove/delete duplicate mp3 files
---
50)
PlayZone 1.1
PlayZone is a brand new Media files and players console. it is a best replacement for your player playlist manager.manipulate your player directly and access your Media files in a quicker, easier and more flexiabe way.
---
Browse Pages:
|<
1
[2]
[3]
[4]
[5]
>>
>|